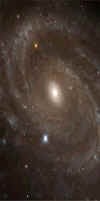 Get ready for a wild journey...
into realms of thought and happenings beyond most people's imagination.
It's a cosmos populated with black magicians, witches, warlocks, aliens and fallen angels pitted against cosmic beings, Elohim, archangels and ascended masters in a literal war of the worlds. In the midst of it all, there are everyday people who believe they can personally affect the outcome of the juxtaposition of these cosmic forces.
Here the focus is telling the story of life in Elizabeth Clare Prophet's Church Universal and Triumphant (CUT). Against the backdrop of its unusual cosmology, you will come to see truth is indeed stranger than fiction in CUT. Nobody could make this stuff up. It's too unbelievable.
This site is a work in progress. I have more ideas about what I would like to see here…and that will come...eventually.
Thanks for stopping by.
Cheri Walsh
Editor and Webmaster
email: sporty007@msn.com